Downie's Cottage
Hill Street
AB35 5XX
Braemar, United Kingdom
Architect
Erdal Architects
12g Timber Bush, Edinburgh EH6 6QH
richard@erdal.co.uk
00 44 131 554 6725
Contact Details
Roger Curtis
Historic Environment Scotland
roger.curtis@hes.scot
00 44 1316688621
Other Information
HES Refurbishment Case Study
Related publications
Historic Environment Scotland Refurbishment Case Study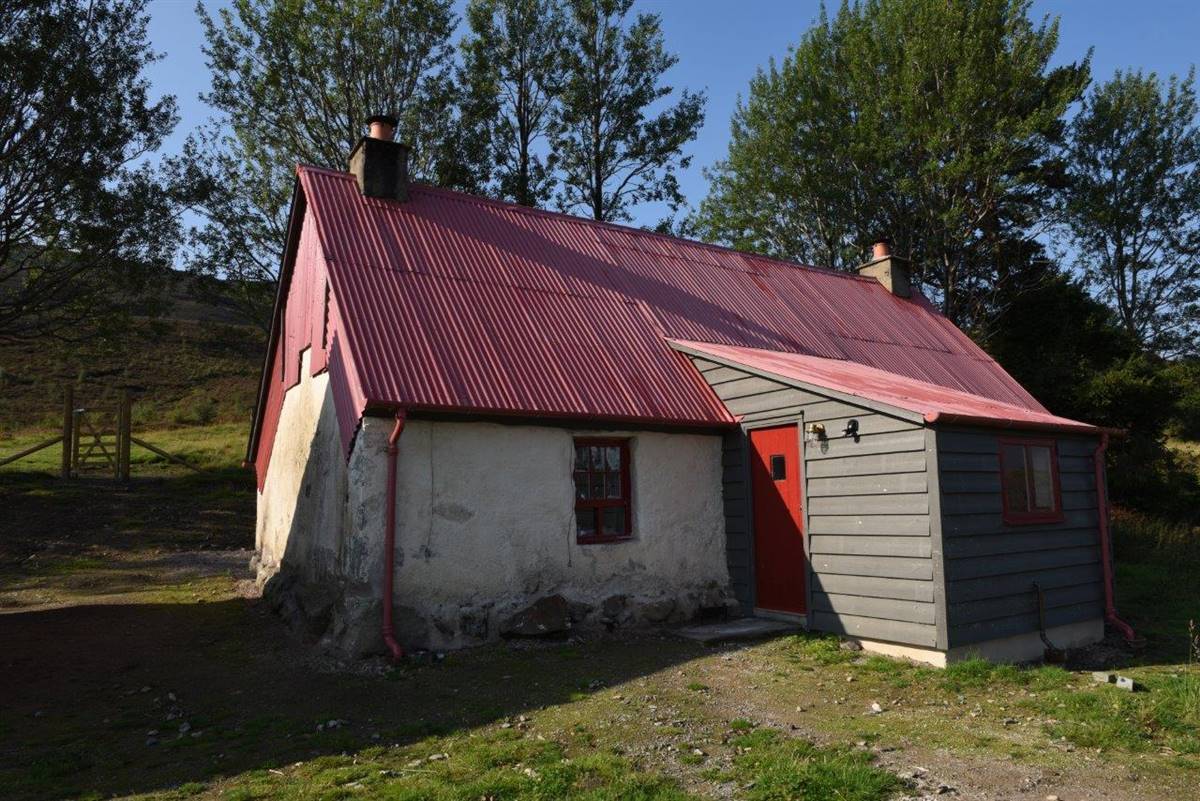 This project was the refurbishment of an early 19th C croft house located near Braemar in the Cairngorms National Park. It is a rare survivor of a vernacular building type once common in Scotland and is Category 'A' Listed. Works included insulation to walls and floor, upgrades of the windows and the installation of a ground source heat pump.
Energy performance Primary Energy:
412 kWh/m2.y
Climate Zone CFb

Altitude 1500

HDD 2912

CDD 83

Conservation Area:
Da
Level of Protection:
Scottish Category 'A' Listed - denoting national importance
Year of last renovation:
0
Year of previous renovation:
70
Building use
Residential (rural)
Building occupancy:
Discontinuous occupancy (i.e. holiday home)
Number of occupants/users:
2
Building area
Net floor area [m²]: 20,0
Building typology:
Detached house
Number of floors:
1
Basement yes/no:
No
Number of heated floors:
1
Gross floor area [m²]:
20,0
Volume [m³]:
40,0
NFA calculation method:
Useful area (ro)
Construction type
Stone masonry wall
External finish:
Rendered
Internal finish:
Plastered (on hard)
Roof type:
Pitched roof
+ MORE - LESS
RENOVATION PROCESS
Architecture
BUILDING DESCRIPTION
Probably early to mid 19th century. 3-bay, single-storey and attic, rectangular-plan crofting cottage situated on high ground overlooking Braemar village. Rubble with lime render and pointing. Corrugated-iron roof covering heather thatch. N ELEVATION: Timber lean-to porch to centre, breaking eaves with timber door to left side; windows flanking. Smaller single windows to S and W elevations. INTERIOR: traditional plan arrangement comprising two principal rooms to E and W with central core of box-beds and stair to roofspace. Room to E: stone flags to floor; raised hearth with granite shelf to right and cast-iron fireback with rose motif; timber 'hanging-lum' above with shelf to base of cowel; small wall niche to right. 2-leaf panelled timber doors to cupboards and box-bed. Room to W: remnants of fireplace and box-beds. Further box-bed behind staircase. Roofspace and stair lined with timber and 19th and 20th century newpaper and magazine print; 2 further box-beds to W end of roofspace. 9-pane glazing to timber sash and case windows. Coped and rendered ridge stacks located toward gable ends.
The cottage is in a rural environment
HERITAGE SIGNIFICANCE
ELEMENTS WORTHY OF PRESERVATION
The main features for preservation were the hanging lumb in the east gable, and the box beds in the 2 ground floor rooms.
Downey's Cottage is an exceptionally rare and important survival of the open hearth tradition of vernacular building in the North East of Scotland. This simple 3-bay cottage is remakable for its largely intact interior with traditional plan arrangement with rooms to E and W and a central core comprising box-beds and a stair to the roofspace. Key points of interest include the raised stone hearth beneath a timber 'hanging-lum' chimney, and 19th and 20th century printed newspaper lining and heather thatch beneath the corrugated-iron roof covering.
Heritage Assessment Files
State of repair
Conditions of the envelope
The cottage had been empty since 1933, and was in a poor condition on the ground floor. The West gable was fragile and parts of the south wall had collapsed. The upper floor and roof were in good condition.
Description of pre-intervention building services
No services present. Heating by 2 open fires in each gable.
Aim of retrofit
Renovation
The aim of the project was to bring back the building back into residential use (as a holiday property) but retain its historic character and finishes, as well as ensuring that the property fulfilled modern expectations of comfort at this exposed site. To ensure technical compatibility with the existing fabric traditional materials and techniques were used for the fabric repairs.
The lowering of the floor level to fit in the lime concrete floor took longer than expected, and obliged some improvement to the foundations.
Public sector
Historic Environment Scotland (HES)
Longmore House, Salisbury Place, Edinburgh, EH9 1SH

Private Sector
Private Client
Braemar, Aberdeenshire

Architect
Erdal Architects
12g Timber Bush, Edinburgh EH6 6QH
richard@erdal.co.uk
Tel.00 44 131 554 6725

Conservation Consultant
Sonya Linskaill
Dunellan, Strathyre FK18 8NA

Energy calculation
The design team used Energy Plus software for the building warrant
Hygrothermal assessment
A condensation risk assessment was done for the wall insulation
Life Cycle Analysis (LCA)
Not done formally, although the materials used were selected for a 50 year + lifespan.
Other
An infra red survey was conducted
Energy Efficiency
Energy performance certificate:
Current energy efficiency rating is band D SAP value 61, while current Environmental Impact Rating is also band D (65).
Voluntary certificates:
No
Heating
Primary Energy
412 kWh/m2.y
Primary Energy
Consumption_estimation_Calculation_method:
Steady state simulation (e.g. EPC, PHPP)
Documents:
EPC - Tomintoul Croft Braemar.pdf
Downie's cottage EPC, January 2016
Consumption_estimation_After:
412 kWh/m2.y
Internal Climate
The cottage is kept at 16 degrees, with additional local heat from the wood burning stove during periods of occupation.
This has not been formally assessed, but appears to be satisfactory.
Provision of natural light is modest due to only two windows in the North elevation, and on quarter light on the South elevation.
The steady temperature has suited the wallpaper and paneling very well, no damage or distortion observed.
Costs
Internal and external wall insulation has improved the environmental and energy efficiency rating of the building. It has also increased the savings of the household.
Cost of energy related interventions:
£14,565.79 (total)
Amount includes:
The cost includes boiler and other related installations (pipes, insulation, ducts...), labor and commissioning.
Total annual energy cost
940£ (total)
Lifecycle cost
No
Environment
Methodology_used:
Covered in simplified form by the EPC. The calculated emissions for the cottage were 70 kg CO2/m²/yr.